Biography
Salih Can Aciksoz is an Assistant Professor of Anthropology at UCLA. After receiving his Ph.D. in Anthropology from the University of Texas at Austin in 2011, he served as a Mellon Postdoctoral Fellow at the College of William and Mary and an Assistant Professor of Middle Eastern Studies at the University of Arizona. His first book "Sacrificial Limbs: Masculinity, Disability, and Political Violence in Turkey" (University of California Press, 2019) centers on disabled veterans of Turkey's Kurdish war. Chronicling veteran's post-injury lives and political activism, the book examines how veterans' experiences of war and disability are closely linked to class, gender, and ultimately the embrace of ultranationalist right-wing politics.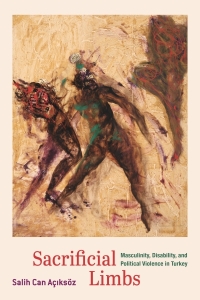 Dr. Aciksoz's new book project, "Humanitarian Borderlands: Medicine and Terror at Turkey's Syrian Border," focuses on humanitarian prosthetics and emergency field medicine along and across Turkish-Kurdish-Syrian border. The work explores how new forms of medical care and ethics emerge in a zone of political violence through a contest over the meanings of health, humanitarianism, and terrorism. In addition to these two long-term projects, Dr. Aciksoz has written on PTSD, assisted reproduction technologies for people with disabilities, crowd control technologies, prenatal genetic testing, and the gender politics of populist movements. His work has appeared in journals including Current Anthropology, Medical Anthropology Quarterly, Culture, Medicine, and Psychiatry, and the Journal of Middle East Women's Studies in addition to online venues such as Jadaliyya. You can find the PDFs of his most recent work below.
Publications
2020    Prosthetic Debts: Economies of War Disability in Neoliberal Turkey. Current Anthropology 61(21): S000-S000. (Electronically published before print version, DOI: 10.1086/705654)
2019    Sacrificial Limbs: Disability, Masculinity, and Political Violence in Turkey. Oakland: University of California Press. (Read introduction here)
2017    "Grab'Em by the Patriarchy." Anthropology News 58(3): 10–12. link
2017    He Is a Lynched Soldier Now Coup, Militarism, and Masculinity in Turkey. Journal of Middle East Women's Studies 13(1): 178-180. PDF
2016    Beyond "the Lesser Evil": A Critical Engagement with Brexit. Social Anthropology 24(4): 487-488. (co-authored with Umut Yildirim) PDF
2016    Medical Humanitarianism Under Atmospheric Violence: Healthcare Workers in the 2013 Gezi Protests in Turkey. Culture, Medicine, and Psychiatry 40(2): 198-222. PDF
2015    Ghosts Within: Genealogies of War Trauma in Turkey. The Journal of Turkish and Ottoman Studies 2(2): 259-280. PDF
2015    In Vitro Nationalism: Masculinity, Disability and Assisted Reproduction in War Torn Turkey. In Gender and Sexuality in Muslim Cultures, edited by Gul Ozyegin. Farnham: Ashgate. PDF
2014    Ghazis or Beggars: The Double Life of Turkish Disabled Veterans. Ethnologie Française 2014(2): 247-256. PDF
2013    Masculinized Power, Queered Resistance. Cultural Anthropology Online, October 31, 2013. link
2012    Sacrificial Limbs of Sovereignty: Disabled Veterans, Masculinity, and Nationalist Politics in Turkey. Medical Anthropology Quarterly 26(1): 4-26. 
PDF
https://anthro.ucla.edu/wp-content/uploads/2020/06/Bxd_Blk_Anthropology_A.png
0
0
webteam
https://anthro.ucla.edu/wp-content/uploads/2020/06/Bxd_Blk_Anthropology_A.png
webteam
2020-08-13 21:30:37
2021-12-07 10:48:08
Salih Can Açiksöz