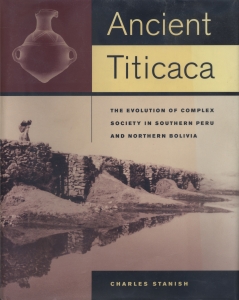 Biography
One of the richest and most complex civilizations in ancient America evolved around Lake Titicaca in southern Peru and northern Bolivia. This book is the first comprehensive synthesis of four thousand years of prehistory for the entire Titicaca region. It is a fascinating story of the transition from hunting and gathering to early agriculture, to the formation of the Tiwanaku and Pucara civilizations, and to the double conquest of the region, first by the powerful neighboring Inca in the fifteenth century and a century later by the Spanish Crown. Based on more than fifteen years of field research in Peru and Bolivia, Charles Stanish's book brings together a wide range of ethnographic, historical, and archaeological data, including material that has not yet been published. This landmark work brings the author's intimate knowledge of the ethnography and archaeology in this region to bear on major theoretical concerns in evolutionary anthropology.
Stanish provides a broad comparative framework for evaluating how these complex societies developed. After giving an overview of the region's archaeology and cultural history, he discusses the history of archaeological research in the Titicaca Basin, as well as its geography, ecology, and ethnography. He then synthesizes the data from six archaeological periods in the Titicaca Basin within an evolutionary anthropological framework.
Titicaca Basin prehistory has long been viewed through the lens of first Inca intellectuals and the Spanish state. This book demonstrates that the ancestors of the Aymara people of the Titicaca Basin rivaled the Incas in wealth, sophistication, and cultural genius. The provocative data and interpretations of this book will also make us think anew about the rise and fall of other civilizations throughout history.
University of California Press, 2003
ISBN-10: 0520232453
ISBN-13: 978-0520232457
https://anthro.ucla.edu/wp-content/uploads/2020/07/Stanish_Ancient_Titicaca.jpeg
300
239
webteam
https://anthro.ucla.edu/wp-content/uploads/2020/06/Bxd_Blk_Anthropology_A.png
webteam
2003-01-06 22:27:31
2020-07-02 22:29:54
Ancient Titicaca: The Evolution of Complex Society in Southern Peru and Northern Bolivia