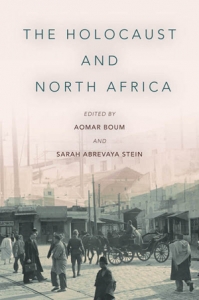 Biography
The Holocaust is usually understood as a European story. Yet, this pivotal episode unfolded across North Africa and reverberated through politics, literature, memoir, and memory—Muslim as well as Jewish—in the post-war years. The Holocaust and North Africa offers the first English-language study of the unfolding events in North Africa, pushing at the boundaries of Holocaust Studies and North African Studies, and suggesting, powerfully, that neither is complete without the other.
The essays in this volume reconstruct the implementation of race laws and forced labor across the Maghreb during World War II and consider the Holocaust as a North African local affair, which took diverse form from town to town and city to city. They explore how the Holocaust ruptured Muslim–Jewish relations, setting the stage for an entirely new post-war reality. Commentaries by leading scholars of Holocaust history complete the picture, reflecting on why the history of the Holocaust and North Africa has been so widely ignored—and what we have to gain by understanding it in all its nuances.
Aomar Boum is Associate Professor of Anthropology at the University of California, Los Angeles and Faculty Fellow at the Université Internationale de Rabat, Morocco.
Sarah Abrevaya Stein is Professor of History at the University of California, Los Angeles.
Stanford University Press, 2018
Cloth ISBN: 9781503605435
Paper ISBN: 9781503607057d
https://anthro.ucla.edu/wp-content/uploads/2020/07/boum_holocaust_northafrica.jpg
300
199
webteam
https://anthro.ucla.edu/wp-content/uploads/2020/06/Bxd_Blk_Anthropology_A.png
webteam
2018-11-06 16:46:08
2020-07-02 17:03:31
The Holocaust and North Africa